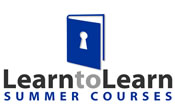 The popular LearntoLearn Summer Course has been taught on the Wake Forest University campus since 1972. Geared toward middle school, high school and college students who want to improve in school, this course helps students understand and develop more effective study habits.

Like a lock that needs a specific key, students often need study skills instruction and tips that address their unique needs. Similarly, there are common keys to improving at each skill. The LearntoLearn Course teaches students a full spectrum of study skills and helps steer them towards the skills they need most. In our decades of teaching LearntoLearn courses, we've learned to focus on the unique needs of each student and to teach in a way that helps students realize the benefits of better study habits.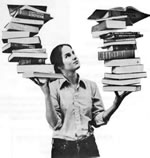 In 1972, Dr. Philippe Falkenberg, Ph.D. founded the The LearntoLearn Course. As a freshmen counselor at Wake Forest University, he heard student after student make the same complaints about their study habits. Already being a psychologist with expertise in the psychology of learning, Dr. Falkenberg wrote a textbook specifically to address the wide array of common study problems. The textbook, 15 Days to Study Power (Greencrest Press, 1994), was written especially for students taking The LearntoLearn Course. In fact, it was so popular and respected that in 1986 the North Carolina State Department of Public Instruction adopted it for use in all state high schools. We still use Dr. Falkenberg's text today along with a variety of supplementary materials.